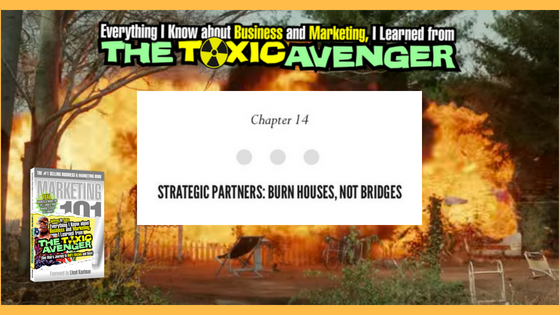 Greetings from Tromaville! Here is Chapter 14 from my book, Everything I Know about Business and Marketing, I Learned from THE TOXIC AVENGER. In this chapter, I talk about an early career lesson – "if you don't ask, you don't get" – and how it led to literally explosive results! What do you think?
If you haven't done so already, you can read the Foreword by Troma co-founder, Lloyd Kaufman, and the Introduction to the book as well as Chapter 1, 2, 3, 4, 5 and 6, 7 , 8, 9, 10, 11, 12 and 13. You can also see me read a few chapters live, along with Lloyd and Toxie, at Florida Supercon as well as a few chapters I read on Facebook Live. Stay tuned for additional chapters to be published here. If you like what you read and can't wait for more, please don't be shy. You can buy the book now on Amazon (and also please don't be shy about sharing, and reviewing the book when you do read it.) Both Toxie and I greatly appreciate your support! – Jeff Sass
Chapter 14: Strategic Partners – Burn Houses, Not Bridges
Croton-on-Hudson is a lovely, quaint, and somewhat exclusive village overlooking the Hudson River in a ritzy part of Westchester County, about thirty-five minutes north of Manhattan. Lush greenery, winding roads, large picture-perfect homes, and a reasonable commute to the city make it a desirable and expensive area in which to live. Croton-on-Hudson is one of those dreamy communities that, as you drive through for the first time, your eyes and mind wander together as you imagine what it must be like to live in such an elite and peaceful hamlet. You pass the homes with tall trees and thick lawns, a luxury sedan and SUV or nice minivan parked in the driveway, and you imagine yourself in their shoes…and their clothes, and their homes and cars and country clubs for brunch on Sundays, wondering how your third Bloody Mary will impact your afternoon tennis game. Ah, Croton-on-Hudson…
So, I was a little intimidated when I entered the adorable Town Hall building for my scheduled meeting with the town supervisor to discuss my request, nay, a small favor. I was coming to ask for permission to blow up a small vacant home that was scheduled for demolition anyway. Yes, I literally asked if we could use real-live explosives and blow up a home nestled in a lovely little lakefront valley in the heart of the lovely village of Croton-on-Hudson, nestled above the lovely Hudson River.
This reminds me of one of the first business lessons I learned from my previous boss at Satori, Ernie Sauer: "If you don't ask, you don't get." Ernie said that to me in the context of me boldly asking him for a raise while dining together on my first-ever business trip abroad. I was a lowly PA (production assistant), earning $250 per week (take that, Ivy League education!) and less than a year into the job, but here we were, me, alone with the company CEO, so I went for it. And he went along, agreeing to my request, mostly because I had the gall (read "balls") to ask. After all, as he proudly espoused, "If you don't ask, you don't get."
And in the realm of independent (read "low-or no-budget") filmmaking, "If you don't ask, you don't get" is a worthy mantra for the production. Especially when it comes to scouting for shooting locations. So I asked.
"You want to do what?" said the town supervisor, now paying very close attention.
"Blow up a house that is already scheduled for demolition."
"Blow it up? With explosives?"
"Well, it would be hard to do so without explosives," I smiled and delivered the piece de resistance. "It's for a movie!"
It is truly amazing what you can get away with when you tell people "it's for a movie." Everyone wants to be part of making a movie and have their moment behind the scenes. Remember that church I mentioned, where we shot scenes of drugs, guns, and debauchery? Even a seasoned priest was in awe of the prospect of "lights, camera, action!" Dreams of Hollywood are deeply imprinted in the minds of most humans. Powerfully imprinted, so deeply that intelligent, sane, hardworking individuals can be mesmerized and bedazzled into confusing Tromaville for Hollywood and letting the likes of our literal motley crew and me wreak havoc on their homes and businesses, temporarily turning lives and livelihoods inside out, all in the name of "cinema!" And, in the case of Indy productions like ours, all for no compensation (other than the glory of the experience).
As the wide-eyed Croton-on-Hudson town supervisor pondered my polite pyrotechnic request, I figured I might as well go for broke.
"We'd also like your local fire department to be on hand to put out the raging inferno after the building goes boom. OK? And we have no budget for any of this (except, of course, for the explosives…we have a budget for that). So, what do you say?"
To break the awkward silence, I added, "And the fire department can use this as a great training experience—a controlled explosion for them to put out…a valuable opportunity for sure."
And boom! That was the clincher that made our big boom possible. The town supervisor got it all approved. Of course, there were permits and insurance and other details to be worked out, but we came to them with the blessing of the N Y Governor's Film Commission, who had supplied us with the list of "scheduled demolitions" that led us to Croton-on-Hudson in the first place.
Which begs me to mention the value of city and state film commissions. They are populated by hardworking and dedicated film-loving staff that are there to help you, struggling filmmaker, regardless of your pedigree or budget. All you have to do is ask. Long before Lloyd's lovely and talented wife Pattie Pie (er, I mean Patricia) was appointed to head the NY State Governor's Film Commission, the Troma Team was wise enough to leverage the free resources of the New York City, New York State, and New Jersey Film Commissions. Are there similar state or city-funded resources to assist you in your industry? Dig in. You might be surprised.
Back to our big blast in Croton-on-Hudson. It was, indeed, a blast. The weather was perfect. The fire department ready and eager to engage in their "training exercise," and of course, our cast and crew were equally fired up to start production of The Toxic Avenger Part II with a bang!
Croton-on-Hudson got their building demolished as planned. Plus, their fire department had an exemplary training opportunity. And to top it all off, the Troma Team got a great location, and an even better explosion, all on film, and all for free.
•••
That's Chapter 14  –  I hope you had as much of a "blast" reading it as I had living it. And remember, "if you don't ask, you don't get!"  Stay tuned for "Chapter 15: "If you Don't Want to Swallow a Frog, Start with a Stunt!," which explores the benefits of doing the hard stuff first.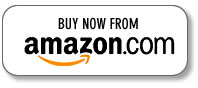 https://everythingiknowabout.marketing/wp-content/uploads/2018/05/Chapter-14-blog-image-explosion-toxic-avenger-troma.png
315
560
Jeffrey Sass
https://everythingiknowabout.marketing/wp-content/uploads/2017/04/Untitled-5-6.png
Jeffrey Sass
2018-05-27 12:36:05
2018-05-27 12:37:07
Chapter 14: Strategic Partners - Burn Houses, Not Bridges