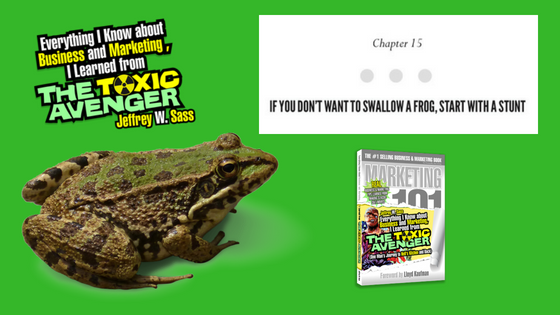 Greetings from Tromaville! Here is Chapter 15 from my book, Everything I Know about Business and Marketing, I Learned from THE TOXIC AVENGER. In this chapter, I talk about the team building benefits of "doing the hard stuff first…" What do you think?
If you haven't done so already, you can read the Foreword by Troma co-founder, Lloyd Kaufman, and the Introduction to the book as well as Chapter 1, 2, 3, 4, 5 and 6, 7 ,8, 9, 10, 11, 12, 13 and 14. You can also see me read a few chapters live, along with Lloyd and Toxie, at Florida Supercon as well as a few chapters I read on Facebook Live. Stay tuned for additional chapters to be published here. If you like what you read and can't wait for more, please don't be shy. You can buy the book now on Amazon (and also please don't be shy about sharing, and reviewing the book when you do read it.) Both Toxie and I greatly appreciate your support! – Jeff Sass
Chapter 15: If You Don't Want to Swallow a Frog, Start with a Stunt
There's a popular productivity quote that is often attributed to Mark Twain about swallowing a live frog every morning. If you can get past that rather grotesque task, then anything else the day may bring on should seem infinitely more manageable. The fate of the poor frog aside, the concept is one we embraced when making movies in Tromaville, and it is a sound practice for any business. Start with the hard stuff.
When making a movie, especially a low-budget action/horror flick, the hard stuff is typically anything involving stunts or special effects. Those are the days that cost more money, often take more time, and ultimately have more at stake because it is harder to "fix it in editing" should the planned stunt go awry on film. These were the pre-CGI(1) days, and things like explosions and crazy car stunts were all done "live" on film for the most part. When we blew up a building, there were real explosives, fire, and debris. Cameras were set behind protective plexiglass shields, and crew and actors were reduced to the bare minimum possible and kept as far away from potential harm as possible. Fun stuff. Exciting stuff. Dangerous stuff. So why not do it on the very first day of filming, before anyone is comfortable working with each other?
Swallow the frog.
Exactly.
Do some really super hard shit right at the beginning to get everyone focused (and maybe a little nervous), but in truth, there's no better way to quickly bond a group of disparate people than to have them accomplish a really hard, potentially dangerous, task together. Focus is required. Teamwork is required. It is going from zero to sixty in the first few hours of working together. It forces the cream to rise to the top and quickly exposes the weak links in the chain. (There were always fewer people on the crew on day two than there were on day one.) It is risky, but it is also rewarding. And when it works (actually more often than not), it sets the tone for the rest of the production, with everyone diving in with a level of confidence and camaraderie that otherwise might have taken weeks to develop.
So, pretty much every Troma production I worked on started with a bang—literally and figuratively.
Are you pulling a team together for a project? Try scheduling the equivalent of your explosion or stunt right up front. Put the team to the test. Swallow the frog. (Then spit it out so the Troma Team can use it as a prop in that tender love scene that requires a regurgitated amphibian.)
•••
1. "CGI" referring to computer-generated imagery—that is, the technology behind digital effects. The only "digital" effects available to Troma at the time were effects involving fingers and toes.
•••
That's Chapter 15  –  When was the last time you swallowed a frog? Stay tuned for "Chapter 16: "Repurpose, On Purpose," which explores how Troma was way ahead if their time in the realm of "content marketing."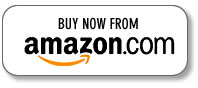 https://everythingiknowabout.marketing/wp-content/uploads/2018/06/chapter-15-swallow-frog.png
315
560
Jeffrey Sass
https://everythingiknowabout.marketing/wp-content/uploads/2017/04/Untitled-5-6.png
Jeffrey Sass
2018-06-03 16:06:03
2018-06-04 02:09:46
Chapter 15: If You Don't Want to Swallow a Frog, Start with a Stunt