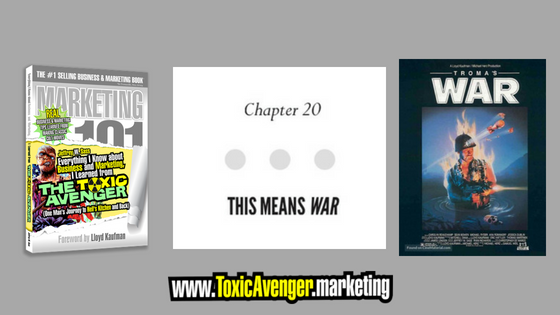 Greetings from Tromaville! Here is Chapter 20 of my book, Everything I Know about Business and Marketing, I Learned from THE TOXIC AVENGER. In this chapter, we take a look at the importance of breaking down your objectives into manageable tasks… similar to the strategies of war (and Troma's WAR).…
If you haven't done so already, you can read the Foreword by Troma co-founder, Lloyd Kaufman, and the Introduction to the book as well as Chapter 1, 2, 3, 4, 5 and 6, 7 ,8, 9, 10, 11, 12, 13, 14, 15, 16, 17, 18, and 19. You can also see me read a few chapters live, along with Lloyd and Toxie, at Florida Supercon as well as a few chapters I read on Facebook Live. Stay tuned for additional chapters to be published here. If you like what you read and can't wait for more, please don't be shy. You can buy the book now on Amazon (and also please don't be shy about sharing, and reviewing the book when you do read it.) Both Toxie and I greatly appreciate your support! – Jeff Sass
Chapter 20: This Means WAR!
They say "business is war." I am not sure who "they" are, but I can assure you that when I began getting involved in Troma's business, my first shot at working on a movie was indeed war. Literally. The very first Troma film I had the opportunity to work on was Troma's War. When I enlisted, my job at Troma was to sell movies, but I dreamed of making them. When plans began for Troma's War, my number came up, and I was drafted to "temporarily" move over from sales to production. My dream had come true, and like many dreams we have, be careful what you wish for—you might get it.
If you haven't yet had the pleasure and delight of seeing Troma's War, it is the story of a plane crash on a mysterious island long before the TV series Lost laid claim to similar territory. Rather than the long-unfulfilled, and unexplained, "monsters" of the TV series, the lost crash survivors in Troma's War find themselves on an island run by bizarre and deadly terrorists. According to Variety, Troma's War "makes Rambo III look like Lassie Come Home!" It was quite an entrée into filmmaking for me.
Yes, I wanted to make movies. No, I had no freakin' idea what that meant, especially in Tromaville. One moment I was trying to sell Rabid Grannies to a home-video distributor in Japan, and the next moment I was on my way to Camp Smith, training ground for the NY Army National Guard, outside Peekskill, NY, to meet with Colonel Garvey to see if I could convince him to let us use their grounds to film and blow shit up (and let our kooky cast and crew live in their barracks for weeks at a time). The irony of having the cast and crew of Troma's War living and filming on a military base was not lost on any of us.
But let's start by looking at how the War began.
Once there's a script and a budget and funds to cover said budget (or enough of the promise of funds, through pre-sales and other means, to risk taking the risk of pulling the trigger on the production), it is time to start staffing up and commencing "preproduction." Preproduction is the planning stage for a movie production when the script is broken down into manageable daily chunks, and the schedule is set. The locations are scouted and finalized, cast and crew are hired, and costumes and props are decided upon and created. Basically, everything and anything you can do in advance of actual filming so that you are ready to go like a well-oiled machine when that first day of "Principal Photography" rolls around.
Sounds great, right? Of course, it is never as smooth as the previous few sentences make it sound, and come day one of filming that ideal well- oiled machine may well spit and sputter like an aged clunker only partially restored. Still, it can and must move forward. The proverbial clock is ticking, and, like the car you drive around in the midst of rebuilding it, you can keep working on the film machine while it is running. Not ideal, but not unusual, especially for a low-budget Indy production, where location and talent availability might dictate a hard start date. Ready or not, here we come!
As we started hiring (and given the lack of actual monetary compensation offered to many early staffers I am using the term "hiring" lightly), we needed to set up a temporary production office to act as home base, ideally somewhere nearby (but definitely not in) the Troma Building. We found a great deal on a short-term lease on a dinky and dirty four-story, walk-up brownstone on West Forty-Eighth Street, a short walk from Tromaville central. I remember thinking it was an odd building with an odd smell, and odd-looking "cubicles," each curtained off and just wide enough for a small mattress to fit inside. Oh, and did I mention that there was a red light by the front door stoop?
Admittedly, I was quite naive in those days, and it took me a few late nights in the production office (where some of our young, more adventurous Troma Team members had essentially moved in) before I realized why this building was "available" so inexpensively. I figured it out when every night an odd "gentleman" or two would ring the doorbell only to be awkwardly surprised when one of our heavily pierced and tattooed young folks of indiscriminate gender would answer the door. The "gentlemen" would invariably look past the welcoming Tromite as if they were hoping to see a familiar face inside, and then, clearly disappointed that they did not, would turn and hurriedly leave, mumbling obscenities under their alcohol-laced breath. Yep, our production office had previously been an operating brothel. Oh, brothel, er, oh brother! When the realization dawned on me, I felt truly blessed that I had a home to retreat to each night and was not one of the "adventurous ones" camping out on the "great mattresses" the previous tenants had left behind.
Despite its lewd history, our production office for Troma's War served its purpose, and our preproduction was off and running, and I was learning on the fly. I went to battle in Troma's War, and it was my deployment to film school…on steroids. But the lessons I learned in preparation, scheduling, and negotiation, were lessons that have proven to be valuable in every career move I've made since. The discipline and planning of pre-production is something that every product launch could benefit from. Few businesses understand their processes as well as a film production, where literally every page of the script (think product roadmap) is broken down into manageable (well, hopefully manageable) chunks, to be executed according to a strict schedule, literally laid out on a schedule board for all to see. Imagine how much more efficient your business would be if it were broken down with the detail and depth even a lowly Troma production had. Every day was fully accounted for, with a breakdown of every needed element—location, actors, costumes, set pieces, props, equipment, crew, a plan to get us all there, a plan to shoot something else should Mother Nature, or other forces, interfere.
Of course, things were fluid and could and would change along the way, but at the onset, we had a plan that, in theory, would successfully get us from point A to point B. From having nothing to having all the necessary footage in the can to piece together the film we intended to make.
Do you have a script breakdown for your business?
•••
That's Chapter 20  –  Do you breakdown your objectives as if you are going to WAR? Should you? Stay tuned for Chapter 21: "Delegate or Die!" which explores the importance of letting go and surrounding yourself with smarter, better people, and letting them do the things they are good at (while you do the things you are best suited for!)… 
The book in previous posts:

https://everythingiknowabout.marketing/wp-content/uploads/2018/07/chapter-20-this-means-war-Tromas-War.png
315
560
Jeffrey Sass
https://everythingiknowabout.marketing/wp-content/uploads/2017/04/Untitled-5-6.png
Jeffrey Sass
2018-07-29 14:06:39
2018-07-29 14:06:39
Chapter 20: This Means WAR!