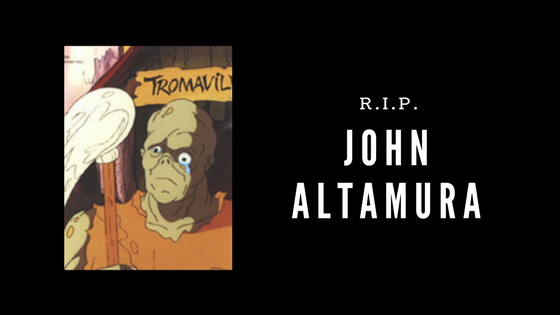 This week it was announced that actor John Altamura passed away of a heart attack at the young age of 52. While the Toxic Avenger was played by Mitch Cohen in the original The Toxic Avenger film, it was John who I first knew as Toxie, working closely with him on The Toxic Avenger II and III (which we shot at once and then edited into the two sequels).
As I write about in my book, in the end, Toxie was portrayed by both John and Ron Fazio in the final cuts of the films, but there is no question that John made a significant contribution to both films and that his version of Toxie will always be warmly and fondly remembered and admired. John's portrayal of the Toxic Avenger brought both a strength and humility to the character that helped to make the lovable monster a hero for the ages…
Like John's memory, the Toxic Avenger will live on, and everyone who ever dons the mutated mask and portrays Toxie in the future will surely be influenced and inspired in some way by the work John did before them.
My condolences to John's family, friends and fans.
https://everythingiknowabout.marketing/wp-content/uploads/2018/05/RIP-John-Altamura-Toxic-Avenger.png
315
560
Jeffrey Sass
https://everythingiknowabout.marketing/wp-content/uploads/2017/04/Untitled-5-6.png
Jeffrey Sass
2018-05-06 14:21:37
2018-05-06 16:34:56
R.I.P. John Altamura... Tromaville Weeps for a Toxie