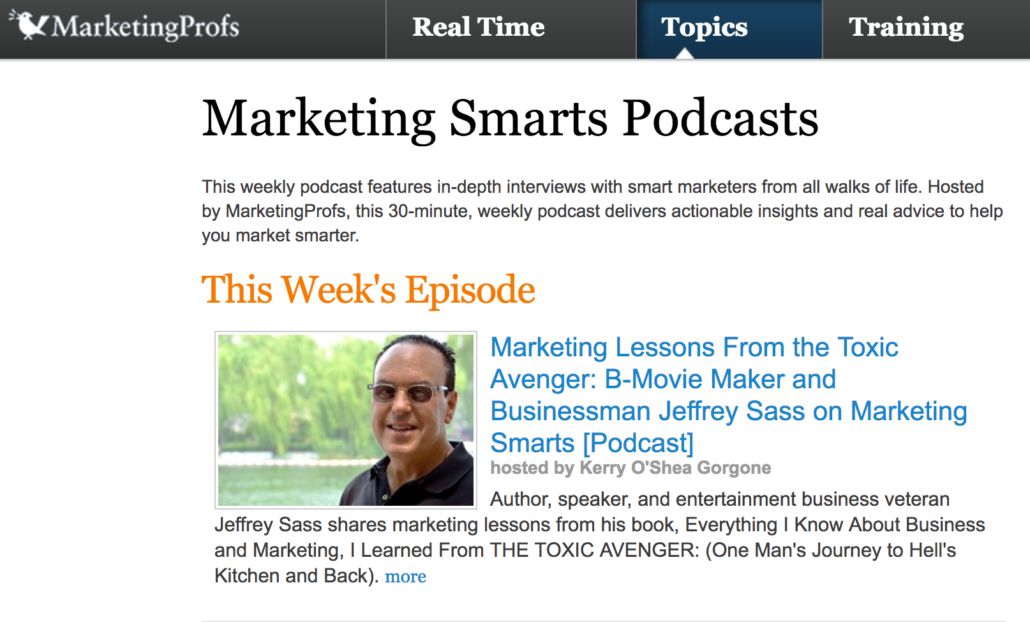 If you're a marketer you have likely heard of MarketingProfs, one of the leading online marketing resources, with over 600,000 members. In their own words, "MarketingProfs is the one source that individual marketers, marketing teams, and some of the world's largest organizations turn to for modern marketing tools, training, strategies, articles, online seminars, discussion forums, and much more." As a marketer myself, who has written a marketing book, I was honored to be a guest on the popular MarketingProfs podcast, "Marketing Smarts," hosted by the talented Kerry O'Shea Gorgone.
Kerry and I had a great conversation and not only talked about the book, Troma, and Toxie, but we also discussed new domain name extensions like .CLUB and some domain name marketing tips (I am CMO of .CLUB Domains) and we talked about corporate culture, including some things I learned working with cartoonist Hugh MacLeod and Gapingvoid. I hope you enjoy listening.
CLICK HERE TO DOWNLOAD THE MP3.
CLICK HERE TO LISTEN TO THE SHOW ON MARKETINGPROFS.
https://everythingiknowabout.marketing/wp-content/uploads/2017/08/Marketing_Podcast__Marketing_Smarts_Podcasts_-_MarketingProfs3.png
974
1614
Jeffrey Sass
https://everythingiknowabout.marketing/wp-content/uploads/2017/04/Untitled-5-6.png
Jeffrey Sass
2017-08-30 20:53:29
2017-08-30 20:53:29
Sharing Some Marketing Smarts from the Book on the MarketingProfs "Marketing Smarts" Podcast